The rubber duck as a symbol of the fight against toxic chemicals in plastics.
by Nick
(Montreal)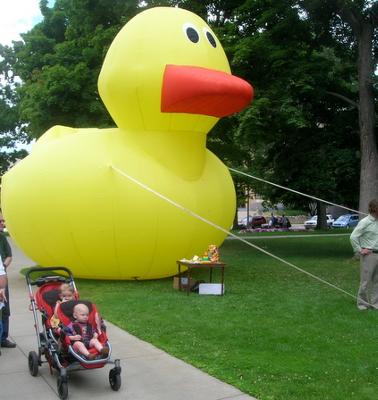 Rubber Duck = Danger of Toxic Plastics
I use an image of a rubber duck in the header of this website.

A rubber duck is also on the front cover of the excellent book, Slow Death by Rubber Duck: The Secret Danger of Everyday Things
.

And here is a 25ft rubber duck on show in Ann Arbor last week. It was displayed as part of an event put on by The Ecology Center to draw people's attention to the dangers of toxic chemicals in plastics.

Why is the rubber duck so popular as a symbol? Because it touches us all. Whatever our age, we likely had a rubber duck or two of our own.

It also reminds us that our children are the most vulnerable to the impact of dangerous chemicals in our environment.

Finally, a rubber duck just shouldn't dangerous. Not at bath time. Not in the bath water with our young children.

Read more about the Ann Arbor event at Treehugger.com...

Photo credit: The Ecology Center
Join in and write your own page! It's easy to do. How? Simply click here to return to In the media.