Pyrex glass food storage containers are great, but...
by Jackie
(Austin, TX)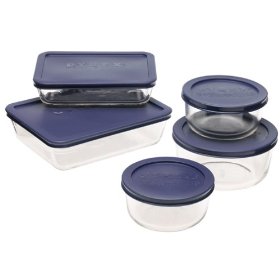 Glass food storage container set.
One of the first things we did was replace all our plastic storage containers. We like the glass Pyrex containers. Good for storage, fit easily in the fridge, easy to clean and we can use them in the microwave too for reheating leftovers.

But, one day we put our daughter's lunch in one of these and sent it with her to school. At the end of the day we got a note saying that glass containers were not allowed. I can kind of see their point, but these Pyrex containers are pretty tough, and I still don't like the idea of my daughter's lunch being microwaved in a plastic container, even if it is safe plastic – number 5.