Bamboo is a natural, renewable alternative for many of the plastics in your home and kitchen.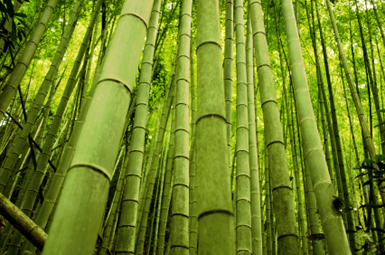 Bamboo is an excellent alternative to plastic, because it is tough, renewable and is often grown organically.
Bamboo is also the fastest growing plant in the world, capable of growing up to 60 centimeters (24 in.) or more per day, due to a unique rhizome-dependent system.
Until recently, the Western view of bamboo was confined pretty much to chopsticks, garden stakes and wind chimes. More recently, bamboo has been taking the limelight as a uniquely flexible material, used both in its natural form and through the use of processed bamboo fibers.
Today, bamboo is used in construction materials, flooring, furniture and cabinets, clothing and even bicycle frames.
It has a particular part to play in the kitchen because it is both durable and naturally anti-microbial.
Here are just some of the items found in many kitchens where bamboo can be used as an alternative to plastics.
Bamboo Bowls
Bamboo Baskets
Bamboo Place mats
Bamboo Trays
Bamboo Napkins
Bamboo Spatulas
Bamboo Cutting boards
Bamboo Utensil sets
Bamboo Steamers
You'll find plenty of kitchen items made from bamboo at Amazon.com
.